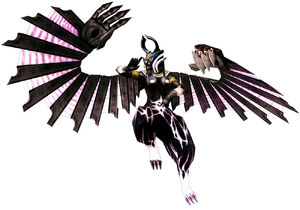 Taken from Gods Eater Burst's database:
A Type 2 Deusphage derived from the Chi-You. Possibly because of Oracle effects, the joints in its winged arms and legs are always glowing. It can crush any metals with ease.
It uses fire-based attacks such as the homing fireball. The wings are durable, but as with all Chi-You, its head is weak to piercing bullets and lower body to crushing. Snipe with lasers.
Weaknesses
Edit
Freeze
Variations
Edit
Ad blocker interference detected!
Wikia is a free-to-use site that makes money from advertising. We have a modified experience for viewers using ad blockers

Wikia is not accessible if you've made further modifications. Remove the custom ad blocker rule(s) and the page will load as expected.