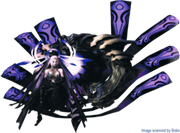 Taken from Gods Eater Burst's database:
Thought to be an Aragami which evolved on its own from a partial core left over when the Arda Nova prototype was disposed of.
Currently, there is no way of finding out the truth behind this theory.
Weaknesses
Edit
Fire, Ice, Spark, Divine
Variations
Edit
Ad blocker interference detected!
Wikia is a free-to-use site that makes money from advertising. We have a modified experience for viewers using ad blockers

Wikia is not accessible if you've made further modifications. Remove the custom ad blocker rule(s) and the page will load as expected.