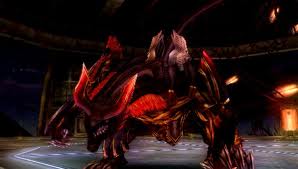 Taken from Gods Eater Burst's database:
A dark Hannibal, which first appeared as the Post manifestation of the Oracle cell invasion of Corporal Amamiya. Several of the same species have been sighted near the Far East Branch: however, the relationship with the individual mentioned above is still under investigation.
This info is restricted to the Far East Branch.
Corrosive (or Black) Hannibal is the stronger version of the Hannibal. Its attacks are basicaly the same as the original except that the Corrosive's has greater power. The Fireball attack is the best example of this.
Weaknesses
Edit
Freeze, Spark, Divine
Variations
Edit
Ad blocker interference detected!
Wikia is a free-to-use site that makes money from advertising. We have a modified experience for viewers using ad blockers

Wikia is not accessible if you've made further modifications. Remove the custom ad blocker rule(s) and the page will load as expected.